Case study: Heckler Design
For Heckler Design

Building a sales workhorse
About: Heckler Design
Heckler Design heckle's bad design with their beautifully designed products.
Their mission? To protect the world from utterly boring hardware.
Heckler Design is a hardware design company that specializes in point-of-sale, technology kiosks, and other products found in stores and offices that make the every-day experiences a pleasure.
Heckler came to us in need of a total rebuild. They needed an integrated platform that could handle specialized buying experiences for consumers, corporations, and retailers.
Services
User Experience
Marketing Strategy Consulting
Design Strategy
Technical Strategy
Digital Customer Journey
This isn't the Matrix, it's Heckler Design... A fully architected set of sites that run even if the world stops.
An experience that would hold up against the beauty, simplicity, and functionality of the products.
A Magento 2 workhorse drives users on their journey to owning better hardware while a custom WordPress site showcases who they are and their processes.
The site needed to be running 365/24/7 and if the site were to go down for just an hour, that's thousands of dollars missed. With robust software architecture the site lives on several servers in different locations to mitigate the risk of having down time.
Tying the systems together, for the initial launchm a solution for international customers was needed to handle all of the steps from purchase to talking to the warehouse to the shipment of goods. For this we brough in Celigo and iGlobal.
iGlobal

Celigo

Braintree Payments

Mailchimp

NetSuite

UPS
Smartphones have changed how people shop for themselves and their companies. A good mobile experience was necessary.
On mobile, your content becomes the navigation. And don't forget it!

Wireframes are the comb to the honey and they're the boss.
When we're planning new digital experiences, the wireframes become the visualization for the user experience.
We don't just produce dope-ass designs and then code it up and everything works perfectly... wouldn't that be a dream. (eye roll).
While those elements are part of the process there are so many other strategic moments that fit in before, between and after... Like an eight way ice cream sandwich.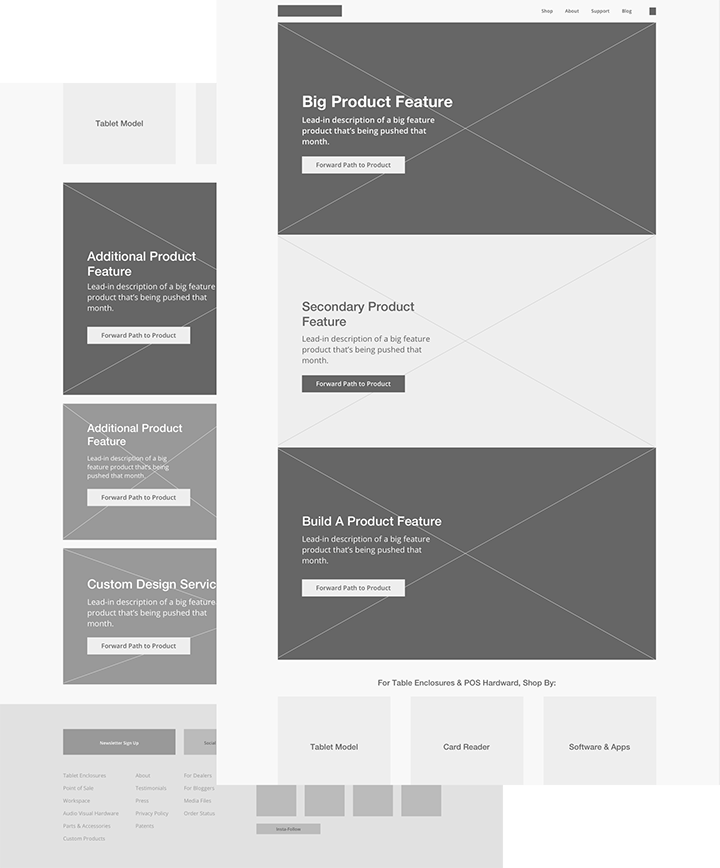 With now revenue exceeding any prior benchmarks the new sales engine is thriving. As we know a website is never done, there is still constant measuring and tweaking to continue to optimize the system and continually test and improve the experience.
Heckler Design sources, designs, and manufactures all of their products in Phoenix, AZ.